February 10-11, 2023
Have you found love with
a fellow Deac?
Wake Forest couples are invited to come "home" to Mother So Dear for a special weekend of programming to celebrate your WFU love connection.
Register for all events or choose a la carte.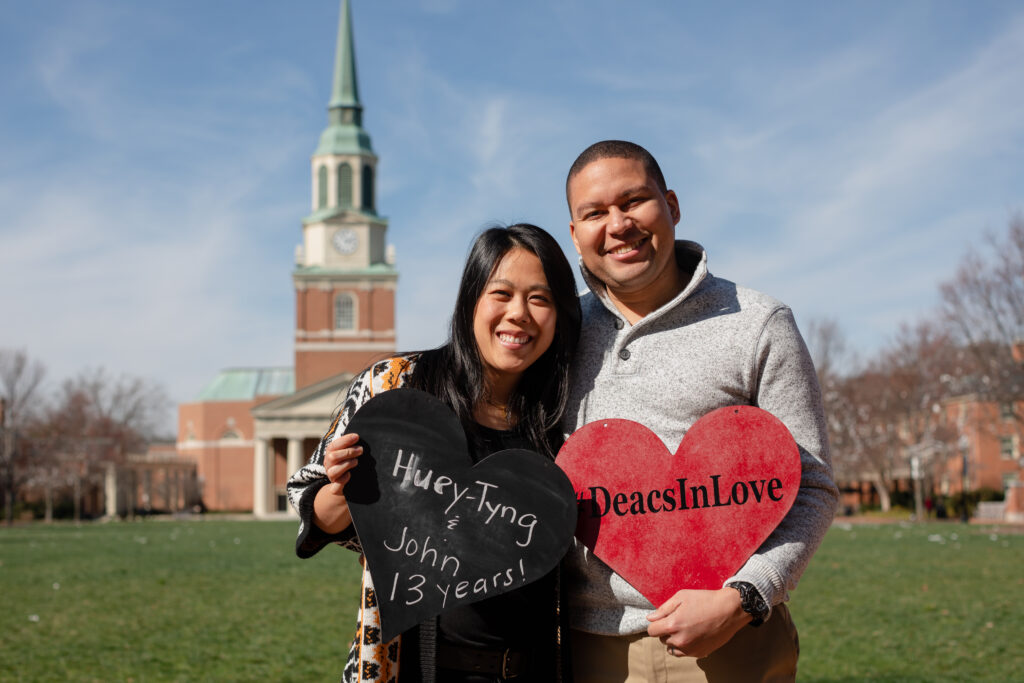 Who's Coming Back . . .
Robert Adams ('61)
Martha Adams ('62)
Kathie Amato ('77)
John Andersen ('90)
Ruth Ann (Wootton) Andersen ('90)
Elizabeth (McPherson) Andresen ('90)
Paul Andresen ('92)
Tammy (Taylor) Applegate ('81, MBA '86)
Mike Applegate ('81, PHD '86)
Scott Aveni ('92)
Lori (Arthur) Aveni ('94)
Emily Batista (MSBA '18)
Lisa Bell ('88)
David Blackshear ('93)
Jacquie (Piasecki) Blackshear ('93)
Jon Bolton ('73)
Mary (Seawell) Bolton ('74)
Kathy (Broach) Bragg ('62)
John Bragg ('88)
Catherine (Carlton) Bragg ('90)
Benton Bragg ('90, MBA '97)
Alice (Carlton) Bragg ('92, JD '97)
Frank (Bragg) Bragg Jr ('61)
Richard Brooks ('90)
Hani (Sie) Brooks ('90)
Jack Clayton ('75)
Mary (McElwee) Clayton ('75, PA '76)
Erin (Lynch) Cockman ('96)
Rob Cockman ('96)
Jeff Covington ('85)
Susan (Ahrens) Covington ('85)
Cassandra (Richards) Davis ('05)
Anthony Davis ('08)
William Gaither ('21)
Walt Gaynor ('75)
Malina (Reed) Gaynor ('76)
Tom Groner
Christine (Nader) Groner ('11)
Ali Haddleton ('20, MA '27)
Eric Haddleton ('20)
Shosi Hansen ('21)
Melanie (Herman) Harkey ('84)
Rick Harkey ('86)
David Hartness ('86)
Susie (Taranto) Hartness ('88)
Jonathan Hartness ('20)
Alison Hartness ('20)
Glenda (Cable) Head ('83)
Jonathan Head ('84)
Waverly (McWhorter) Henderson ('90)
Bud Henderson ('90, MBA '99)
Harris Hickman ('17, MSA '18)
Caitlin (Herlihy) Hickman ('17, JD '20)
Lauren Hiznay ('13)
Richard Howerton ('73)
Janice (Pope) Howerton ('73)
Shana (Eagle) Hurt ('95, JD '99)
Adam Hurt (MAED '99)
Marilyn (Gravander) Jenkins ('72)
Powell Jenkins ('73)
Steve Karr (JD '76)
Pamela Karr ('74, MAED '94)
Jim Kay ('91)
Laura (Johnson) Kay ('91)
Helen (McWhorter) Kennedy ('92)
Charlie Kennedy ('92)
Mary Alyce McCullough ('13, MD '17)
Patricia (Wilson) Meachum ('73)
Marc Meachum ('73)
Betty (Earp) Merrill ('62)
Sammy Merrill ('63)
Sonja (Harvey) Murray ('86, MBA '88)
Craige Murray (MBA '88)
David Paff
Rachel (Weaver) Paff ('93)
Corey Pegram ('13)
Kathryn (Norcross) Pegram ('14)
John Reynolds ('04)
Huey-Tyng (Sun) Reynolds ('04)
Al Rives ('76)
David Robertson ('85, MBA '05)
Kimberly (Haynes) Robertson ('87)
JP Rotchford ('13, MSA '14)
Zanny (Caldwell) Sar ('90)
Bob Sar ('90)
Evan Schlameuss ('17, MSBA '18)
Keith Sherman ('75, MBA '78)
Karen (Grove) Sherman ('76)
Brad Shugoll ('13)
Bob Swab ('84)
Edye (Lowe) Swab ('84)
Russell Talley ('77, MT '78)
Sarah (Sizemore) Talley ('77)
Ali (Preston) Titherington ('92)
Jeff Titherington ('92)
Ed Tweedy ('67)
Pat (Foust) Tweedy ('69)
McLain Wallace ('85, JD '88)
Marybeth (Sutton) Wallace ('86)
Brian White ('00)
Megan White (PHD '11)
Mark Williams ('77)
Alana (Schmidt) Williams ('78)